Assisted Living in Silver Spring, MD
2701 Martello Drive, Silver Spring MD, 20904
The Atrium Active Home is located in Silver Springs, Maryland and is designed to give seniors the ability to live a comfortable, independent life, all without having to worry about the staff or individuals working on site.
The assisted living and personal care services offered by Atrium Active Home is going to ensure that you are always comfortable, as we aim to please and serve, so no matter what you are looking for or what you desire, as long as you want the very best, you are going to find it here at Atrium Active Home.
There are several different amenities for you, as the private units are designed to give you a comfortable feeling, so you don't have to live in small, apartment like settings. There is also scheduled transportation, so should you need to head out to the grocery store or other points of interest you don't even need to drive, as we at Atrium Active Home are able to help you out with it.
There is a gardening area so if you have always loved gardening, there is no reason why you should give it up, just because you are not in your own home any longer. For family members who worry about their loved ones and the kind of care they received, we also offer Alzheimer and respite care services, so we can personalize the kind of care your family members receive, no matter their stages or how long they have been fighting the health condition.
Atrium Active Home has spacious private rooms for all residents around a living room with a full ceiling skylight all on the same floor.
All Atrium homes have only eight residents and are located in luxurious, upscale neighborhoods. For added safety, all homes have a sprinkler system and backup generator.
It is an exquisite estate designed as a rambler and built as an assisted living residence.
They provide housing for elderly and disabled individuals with the inclusion of nursing care, housekeeping, and prepared meals as needed.
The residents enjoy the outdoor ambiance features a wellness center, vegetable garden, a deck gazebo, and views of a nearby farm.
They offer 24-hour caregiving by skilled and licensed staff members.
They offer personalized care in a residential setting for the senior residents, assisting them with all their needs and preferences.
The staff understands that the residents need help but enjoy allowing them to do as much as they can without assistance.
Atrium homes are fully licensed by the State of Maryland Office of Health Care Quality (OHCQ).

Assisted Living and 24-Hour Caregiving Services
Physician and registered nurse on call 24 hours.
Certified staff provides medication management.
Activities of daily living assistance, housekeeping, laundry, personal hygiene, bathing, and dressing provided, as needed.
The staff prepares three nutritious home-cooked meals and snacks.
Professional activities director coordinates on and off-premises activities and events.
On-premises exercise gym with equipment designed for people needing assisted living care.
Individually decorated and fully furnished private rooms.
Beautifully landscaped grounds with comfortable outdoor patios.
Health Care Services
Diabetic care
Memory care
Incontinence care
Ambulatory care
Community Amenities
Wander Guard or Similar System Available
Complimentary Transportation
Testimonials
I give Atrium 5 stars because my mother, Jean spent her last days here and I saw the excellent care given her. They are the kindest, most hands on caretakers I have seen. The Home in Silver Spring, MD., is beautiful, with 8 rooms and private baths, that feels like home. My mom loved the staff and her room. I love the way they gave her so much attention. I would recommend this beautiful home to anyone with an aging family member. They will get the love and attention they deserve.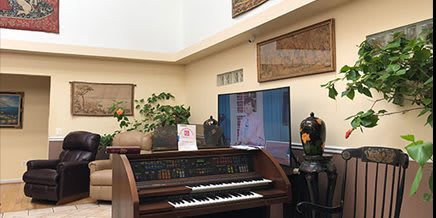 Visit: MyActiveSenior.com for more senior resources.
Type of Housing
Assisted Living
Memory Care
Location
2701 Martello Drive, Silver Spring, MD, USA