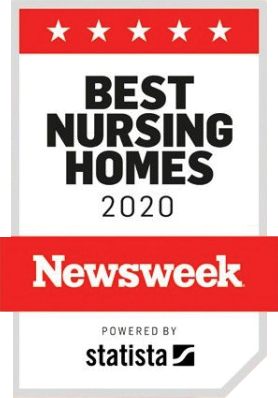 One of the best Nursing homes of 2020
Collingswood Rehabilitation & Healthcare Center is proud to introduce a whole new level of post-acute care to the communities of Montgomery County.
Nestled in a suburban Rockville neighborhood, Collingswood is a warm and welcoming setting where every patient is made to feel at home. Our intent is that you enjoy an all-embracing rejuvenating experience that starts from the moment you enter our doors.
At Collingswood, we help ease your transition from hospital to home as you regain your strength, and offer a comprehensive continuum of subacute rehab, skilled nursing care, and chronic kidney disease management.
With extensive $4 million renovations planned for the very near future, we are Rehabbing Care™ at Collingswood!

Welcome to Collingswood Rehabilitation & Healthcare Center, a warm and welcoming 5-star skilled nursing facility serving the community's healthcare needs with distinction.
Conveniently located in Rockville Maryland, Collingswood offers the best in subacute rehabilitation and skilled nursing care with a primary goal of returning patients home as soon as possible. Today, under new ownership, we are excited to infuse our nursing home community with Marquis' progressive rehab approach.
Dedicated to the post-hospitalization care of individuals recovering from joint replacement, cardiac, pulmonary, neurological, and other acute medical conditions, our excellent inpatient rehab program features physiatry driven rehab programming, daily therapies, state-of-the-art equipment and an array of amenities to enhance your comfort.
Our specialized programming includes chronic kidney disease management with a state-of-the-art Dialysis Center, as well as our revolutionary Care Navigation™ model and URGENT SNF™ Stabilization Program.
Clinical Services
Subacute Rehab
Chronic Kidney Disease Management
Respite Care
Urgent SNF™ Service
Amenities:
Well-Appointed Patient Suites
Healthy Cuisine with a Variety of Menu Selections
Outdoor Deck & Patios
Beautiful Landscaping
Our Great Room with Fireplace
Bright & Airy Lounges with Flat Screen TVs
Complimentary WiFi & Cable
Housekeeping & Laundry
Beauty & Barber Services
Religious Services
Stimulating Recreation Activities
Local Trips & Outings
Resources
Cardia Rehabilitation
Covid 19
Mental Health
Orthopedic Rehabilitation
Subacute Rehabilitation
Telemedicine
Cardia Rehabilitation
Cardiac rehabilitation is a medically supervised program for people who have had a heart attack, heart valve surgery, heart failure, coronary artery bypass grafting, or percutaneous coronary intervention. Standard cardiac rehab programs that are covered by most insurance plans include 36 sessions over 12 weeks and are supervised by a team of healthcare professionals.
While every program is different, many include in-house exercise training, education on heart-healthy living, and/or counseling. You will often learn about lifestyle changes that will reduce your heart disease risk, such as maintaining a healthy weight and quitting smoking.
The goal is to help you minimize stress, reduce your need for medications, and lower your chances of being readmitted into the hospital. A good cardiac rehab program can significantly improve your health and quality of life after you've suffered a health incident related to your heart.
1. You'll work with a team of health specialists.
2. Your patient experience is completely unique.
3. Exercise will be a key component.
4. You'll learn what foods your heart loves.
5. Your team will help target your specific risk factors.
6. Your emotional health will be cared for.
7. You'll see that family support makes a difference.
Our Mission
Collingswood nursing home strives to provide a superior experience and exceptional outcomes for patients, residents and families through progressive, innovative care, advanced technology and investment in service excellence. Highly motivated staff work to inspire our residents to live life to the fullest, offering an active, exciting and warm environment.
Our suite of clinical services includes:
Post-Operative Subacute Care
24/7 Skilled Nursing
Physical, Occupational & Speech Therapies 7 days per week
Orthopedic Rehabilitation
Wound Care
Chronic Kidney Disease Management
Hemodialysis
Stroke Recovery
Diabetic Care
Bariatric Care
Restorative Care
TPN & IV Antibiotics
IV Therapy
Pain Management
Nutritional Services
Hospice / Palliative Care
Respite Care
Therapeutic Recreation
Urgent SNF™ Stabilization Program
Care Navigation™
Visit: MyActiveSenior.com for more senior resources.
Location
299 Hurley Ave, Rockville, MD 20850, USA