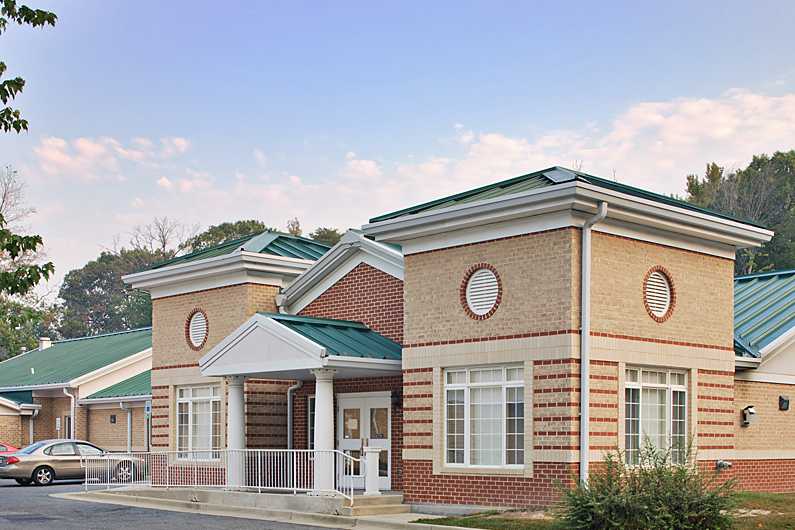 Waldorf Center is conveniently located in Waldorf, MD., serving Southern Maryland. We are in close proximity to University of Maryland Charles Regional Medical Center and MedStar Southern Maryland Hospital. Our facility offers private and semi-private rooms that represent a homelike environment. Waldorf Center offers both Short Stay Rehabilitation and Long Term Care. Our in –house rehabilitation team consist of Physical, Occupational and Speech Therapist. Our staff is dedicated to the care we provide that is reflected in our 5 star quality of care rating.
Services
Short Stay care
Long Term care
Neurological care and rehabilitation
Respite care
Palliative care
Rehabilitation therapy
Physical therapy
Occupational therapy
Speech therapy
Orthopedic Rehabilitation – including joint replacement, injuries and amputation
On-site Medical Director
On-site Nurse Practitioner
Attending Physicians
Registered Nurses
IV Therapy
Audiology care
Bariatric specialties
Colostomy care
Dementia care
Dental care
Personal care
Physiatry services
Podiatry care
Psychiatric services
Vision care
Wound care
X-ray
Hospice care
Pain management
Case management
Dietary and nutrition needs management
Discharge planning
Individual treatment plans
Heparin therapy
Medication management
24-hour emergency alert and response system
Coordinated transportation
Cultural, educational, religious and social activities
Recreation activities
Interpreter services
Amenities
Private and Semi-Private Rooms
Spacious rooms
Fully air conditioned
Individual climate control
Activity room
Wellness programs
Conveniently Located
Suburban setting
Beauty Salon / Barber Services
Cable Television
Comfortable common and lounge areas to gather with friends and family
Dining Room
In-room dining options
Alarm system to aid in the security of residents with cognitive deficits
Complimentary laundry facility on-site
Computer with internet access
Housekeeping
Laundry facility on-site
Mail and Newspaper Service
Pets Permitted
Pharmaceutical delivery service
Phone service
Telephone
Wireless Internet
Fireplace in living room
Smoke free environment

Coming To Our Center
Now that you have made an informed decision about the care that is right for you, let's discuss what to expect at our skilled nursing & rehabilitation center.
What will I do at a Nursing & Rehabilitation Facility?
Participate in a therapy program
Participate in your normal daily routine, such as dressing and grooming
Use individual and group leisure activities to help you resume normal activities
Eat meals with others in the dining room or café. You may also order Room Service
Work with Staff to plan your transition home
How is skilled nursing & rehabilitation different from the hospital?
You will want to wear your own regular and comfortable clothes.
You can use your own personal care items – soap, shampoo, shaving supplies, facial care items, cosmetics, hair dryer, etc.
If you're most comfortable sleeping with your own bed pillow & blanket (comforter, throw) – bring them with you for a good night's sleep.
If keeping a schedule is important, you may want to bring a watch with you.
You will be followed by your personal or Genesis Physician who will visit you within 2-days of your admission. Physicians make regular patient visits during a skilled nursing & rehab stay. You will see a physician less frequently than when you were acutely ill in the hospital.
You may have visitors when you want them but keep in mind the needs of other patients, your rehab schedule & your need for rest to regain your optimal health as quickly as possible.
Wireless internet service is available if you want to bring a laptop with you. You will want to take responsibility for keeping your computer secure.
Use this time to enjoy your favorite relaxing leisure activities – consider bringing books, DVDs, iPod, personal CD player or cards with you, or the Center will have many choices as well.
You may want your family or friends to launder your clothing. But of course, the Center can take care of this for you as well.
What should I bring?
You will probably be getting dressed and participating in therapies and regular daily activities, so you should bring:
Clothing (several changes of exercise clothing is a popular choice)
Comfortable shoes
Bathrobe and slippers
Nightgown/Pajamas
Toothbrush, toothpaste, etc.
Grooming items such as shaving equipment, hair brushes, and make-up
Glasses and/or hearing aids
Personal assistive devices, such as a walker or wheelchair
Your Checklist to make packing easy
Clothes
Pajamas or nightgowns
Robe
Underwear
Socks
Sturdy shoes & slippers (non-skid soles)
Shirts or blouses
Slacks, jeans, or jogging suits
Sweater or jacket
Laundry bag
Toiletries
Toothbrush
Toothpaste
Denture cup
Soap
Shampoo/conditioner
Hairbrush/comb
Shaving equipment
Makeup
Deodorant
Blow Dryer
Assistive Items
Hearing aid
Glasses or contact lenses
Cleaning supplies : For glasses/contact lenses/dentures
Splints, cane or walker
Leisure time items – books, cards, CD's, laptop, etc.
Helpful Documentation to Bring:
Patient Proof of Citizenship or Residency (e.g., U.S. Passport, or Birth Certificate and State Issued Photo ID). Non-Citizens must present temporary or permanent resident card with photo.
Patient Medicare, Medicaid, Manage Care, Social Security, and Insurance cards – including prescription drug cards, if applicable
If the Patient has a Representative for Financial Decisions, Supporting documents such as a Power of Attorney for Financial Decisions, Guardian, Surrogate, or other
If paying privately, a check or credit card
In the event that you have applied for State Medical Assistance (Medicaid), a copy of the application
Important Tips:
Bring clothing that can be machine-washed.
Bring clothing that is easy to pull on or remove, such as pants with elastic waistbands.
Bring items to make your stay comfortable.
Very expensive or irreplaceable items such as jewelry or large sums of money are better left at home.
Visit: MyActiveSenior.com for more senior resources.
Type of Housing
Location
4140 Old Washington Road, Waldorf, MD 20602